SoundExchange understands that the music business is complex, especially for creators trying to get paid for their work. That is why late last year, SoundExchange released an artist-specific update to the My Catalog Search & Claim (S&C) feature within SoundExchange Direct (SXDirect).
The update allows artists to search our database and make performer-based claims on recordings that should be associated to their accounts. The S&C experience for rights owner (RO) registrants has been the same since its original release in 2019. Now, we are pleased to announce a significant upgrade to the RO S&C experience: enhanced RO claiming.
This upgrade to the RO claiming tool enables you to identify your recordings in our system and associate them to your account in a more accurate and efficient way—which gets you paid faster—but also helps us collectively improve some of the metadata issues that exist in our industry.
Before we dive in, there are two types of royalty items (RIs) that you can claim and will see referenced in S&C as well as throughout this blog.
Repertoire: These entries are authoritative metadata for recordings provided by ROs to SoundExchange.
Broadcast: These entries are non-authoritative usage metadata that SoundExchange has received directly from licensees (e.g., Pandora, iHeartRadio, etc.) that have not yet been matched to repertoire.
About Enhanced RO Claiming
You may be thinking, "Wait, I already submit my recordings via the Submit Recordings tool. Why should I use S&C?" While we encourage all ROs to still regularly do this, the new enhancement to S&C requires ROs to identify, or provide, one of their repertoire RIs for each broadcast RI they intend to claim. This will consolidate the data for your catalog at SoundExchange which means more accurate claim information based on the repertoire you own and faster processing of your claims on our end.
Pre-step: Create a New RO (*skip to Step 1 if your registrant already has an RO entity)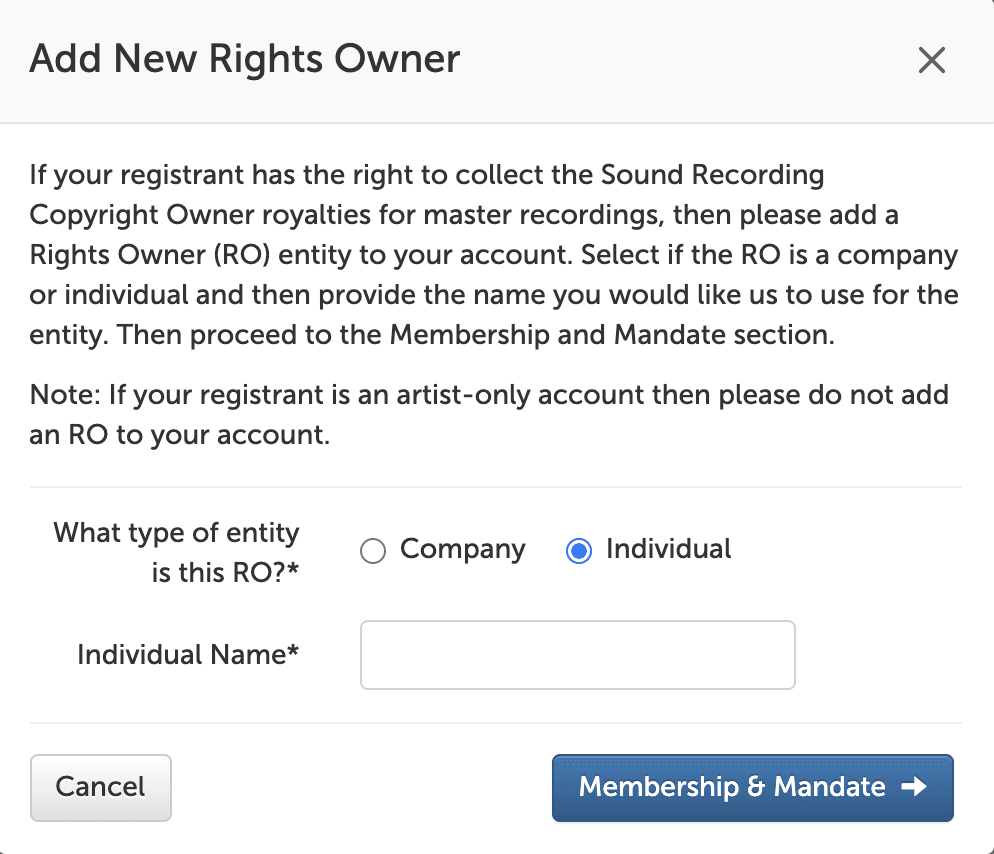 With this S&C release, an RO entity is required to make RO claims. One of the many great features of this update is the ability to create an RO entity for registrants who have not been set up to claim as an RO. This process is fully automated, meaning once you complete the simple steps on-screen, it will immediately allow you to proceed to make your RO claims via S&C. Please only create an RO entity for your registrant if you own sound recordings.

You will first indicate whether your new RO entity is an individual (e.g. an artist who owns their own masters) or a company (e.g. a traditional record label).

Next, the wizard will offer you the options of becoming a member, as well as receiving international collection through SoundExchange by completing the mandate agreement. Both of these agreements are optional.
Tip: To make the most of your SoundExchange experience, you may want to consider becoming a member with an all territories, worldwide mandate.


Once you click "Submit New RO," the system will ask you to review and acknowledge the legal agreement. Then, the below confirmation page will appear, and you'll select "Continue to Search & Claim" to make your RO claims. Note: Your new RO entity will not be created unless you proceed to the end of S&C and submit at least one RI claim.

Step 1: Search for Recordings
This step is where you'll search for recordings and check the box next to the results that you want to add to your cart. We encourage you to do multiple searches and add all claims to your cart before moving on to the next step.
For your convenience, search results in this section exclude all recordings currently associated to your account. Therefore, if you find recordings here that should be associated to your account, you should add them all to your cart before submitting. Please note that the presence of a recording here does not guarantee that there are royalties reported for it.
Tip: On the left-hand side, you'll see a "refine" field with the options of "repertoire" and "broadcast." You can use this to filter the search results by the type of RIs you'd like to claim.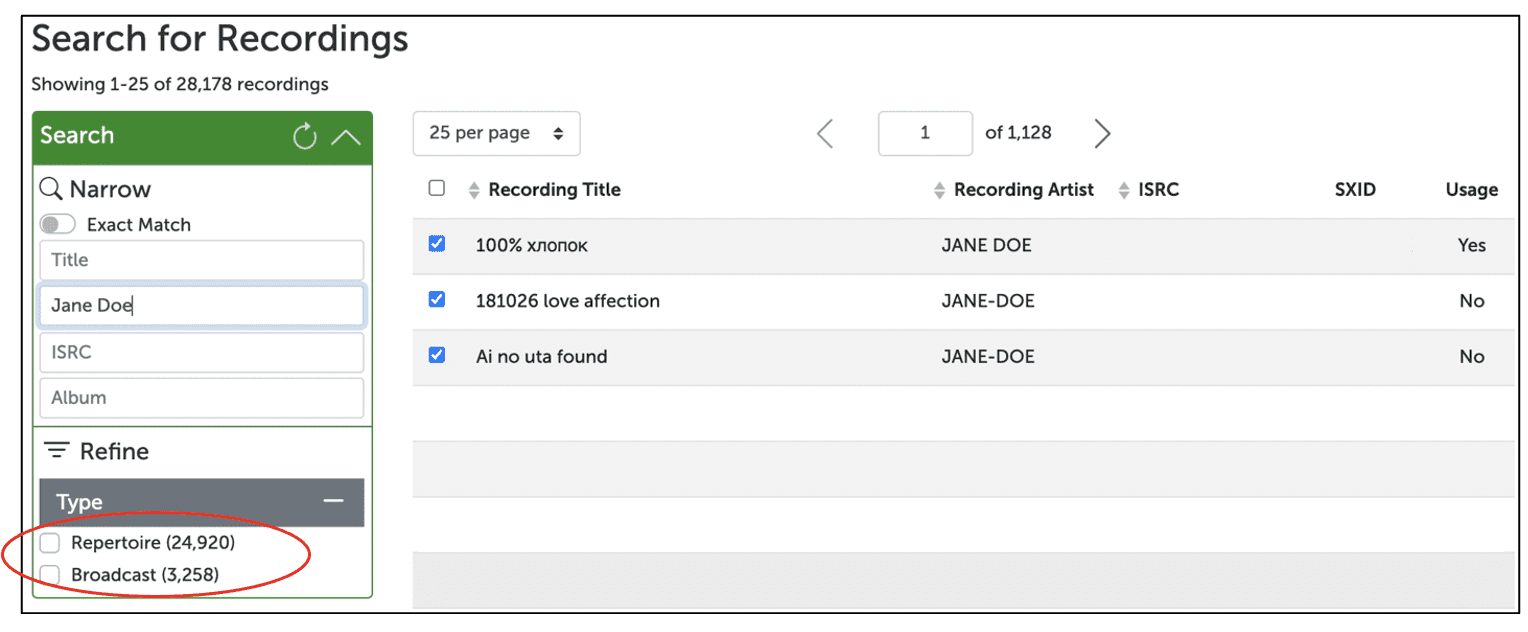 Step 2: Claim
Once you've added all recordings you wish to claim, you'll move on to the next step. All RO claims require you to indicate the percentage of the royalties to which you are entitled for the recording, as well as the start and end dates of your collection rights. Please provide this information in-line or use the "Bulk Claim" tool (shown below) to apply the same claim to all recordings by selecting "Apply to All." Once you've provided this information, click "Check Claims" to proceed to the next step.
Note: When you click on "Check Claims," depending on the disposition of the RIs in your cart, you will either be taken to Step 3: "Analysis" or Step 5: "Review & Submit."


Step 3: Analysis
You will see this step if certain RIs in your cart require additional information to make your claim. Depending on what you're claiming, you will see your claims broken out into two separate sections: one section for broadcast RIs that require additional information and another section for repertoire RIs which are ready to submit as-is. At this point you can choose to either:
Provide the additional information for the broadcast RIs indicated, and then eventually claim your entire cart (which will advance you to Step 4: "Provide Additional Information").
Ignore the broadcast RIs, for now, and proceed claiming only the RIs that are "ready to submit" (which will advance you to Step 5: "Review and Submit").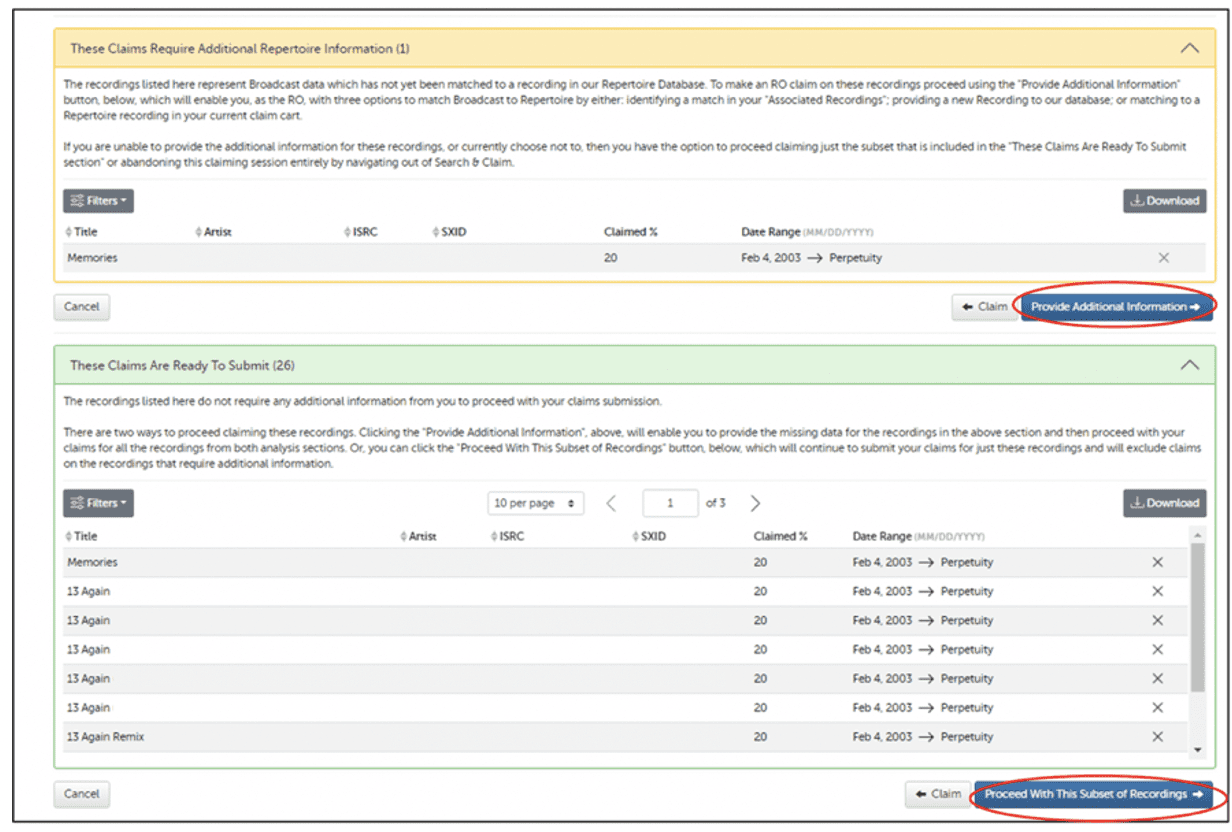 Step 4: Provide Additional Information
This step is where you will be able to identify your repertoire RIs that each broadcast RI you intend to claim matches to. Note: On this step, you will not see the RIs from Step 3 that were "Ready to Submit," however, they will be included when you advance to Step 5 to review & submit your claims.
When claiming broadcast recordings, you'll be required to match them to a repertoire RI using one of three methods:
Match to an RI that is already in your "Associated Recordings"
Match by providing a new recording to the repertoire database
Match to an RI that is in your current session's RO claim cart
For example, Jerry Jean has created an RO claim cart in which a broadcast RI is being claimed. Since broadcast data is not authoritative, we will now require Jerry to identify ("match") this broadcast RI to one of the repertoire RIs he owns. When this additional information is required, S&C offers the following options to the RO to identify a match:
Associated Recording: You'll select a recording from your RO "Associated Recordings" section as a match for this claim. The broadcast data will be matched to a previously submitted repertoire RI.
New Recording: You'll submit a new recording to the repertoire database as a match for this claim—this is a new repertoire submission that you are matching to the broadcast data.
Cart Recording: You'll match the broadcast RI to a repertoire RI that is currently in your RO claim cart.
Here's what these options look like:

Tip: It is critically important for the accuracy of your claims, our ability to process them quickly, and the larger industry metadata ecosystem that ROs provide the best matches possible.
When using the "Submit Recordings" feature in SXDirect, your submission creates a repertoire RI in our database and automatically associates it to your RO registrant. Therefore, ROs who regularly submit their comprehensive repertoire to SoundExchange should be able to use the "Match to Associated Recordings" option to claim any broadcast RIs to which they are entitled. If you are unable to locate a matching repertoire RI in your "Associated Recordings" or in the current session's claim cart, then you'll need to provide a new recording to match that claim using the individual "Submit Recording" form built into the S&C wizard.
Once you have provided repertoire matches to all the broadcast RIs you intend to claim, please proceed to the next step to review and submit your claims.
Step 5: Review & Submit
This is the final step before submitting your claims. On this screen, you'll see all the broadcast and repertoire RIs you intend to claim in this session. Please review the percentages, ownership date ranges, and matches you provided for accuracy. If you find something is inaccurate and needs to be corrected, please navigate back through the S&C wizard to the appropriate step to edit that information. If everything looks correct and you are ready to make your claims, then click on "Submit Claims."

Tip: A column called "Match" will be present if you provided additional recording information in a previous step. When the "Match" column is present, you can click the "Show" button to review the match you provided. If a value of "N/A" appears next to a recording, then that particular claim did not require additional information.
Once you've submitted all your claims you'll be returned to the main S&C page. A copy of your claims will appear in your My Catalog: Upload History.
Meanwhile, our enhancements continue behind the scenes to automatically review and process your new RO entity, RI claims, newly submitted repertoire, and repertoire matches. As mentioned earlier, these upgrades are designed to streamline a complex process, make it easier for you to manage your catalog, and get you paid quickly and efficiently. By providing this additional information, you are submitting a cleaner, more accurate claims which enables them to be processed even faster. Additionally, the matches and repertoire you provide in your claims will enhance our repertoire database to support a future of more accurate data in the music industry.
If you have any questions, please contact our Customer Care team at 1 (800) 961-2091 or via "Contact Us" in SXDirect.